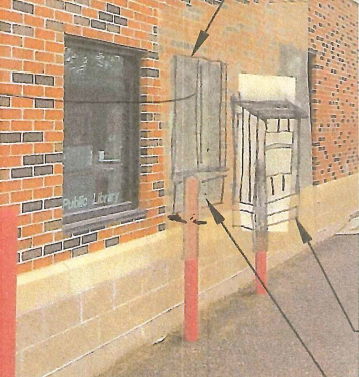 As part of the library redesign in 2011, a drive-up window and any hours return box were installed with the intent of making picking up and returning library materials more convenient and safe (think ice and snow in the wintertime). However, over the next decade it became apparent there were a few design challenges that needed addressing to make drive-up experiences a true success.
In 2020 when we were forced to close our doors during the Covid pandemic and maintain distance from one another, we wondered how to best serve community members. We soon figured out the drive-up window was the answer. It was useful for handing out tax forms, print jobs the staff had completed for patrons, take and make projects, and of course library materials. Naturally, an "A-ha" moment was to follow. We realized pandemic or no pandemic, we could enhance the drive-up window, make it more user friendly, and continue on the path to providing a low contact, convenient and safe way for library users to access library materials.
In the fall of 2022, the library formed a committee and began working with Funktion Design Studio, located in Wausau, on plans to re-design the drive-up window and outside book returns. Instead of a window, which requires staff to lean out in all types of weather while trying to protect library materials from the elements, there will be a fully protected transaction drawer. The drawer will function much like a drive-up teller window at a bank.
In considering the item return area, a re-design would prove to be necessary. The current set-up requires customers to exit their vehicles in order to reach the return slots. The new return boxes will be bumped out away from the building to make returning items more accessible from a vehicle. In addition to the return boxes and drive-up window, the library is addressing another area of need. Because of an increased demand for working space, we are adding a third interior study room to alleviate pressure on existing spaces.
Timeline for project:
Construction bids were received and opened on October 4, 2022. Funktion Design reviewed the bids and a contract was awarded to Ascent Construction out of Rudolph, WI.
Construction is tentatively scheduled to begin on February 1, 2023. Construction should take about three weeks.
We will be closing the current drive-up window and outside return boxes starting February 1. They will remain closed during construction. To ease worries about items being late, no fines will be charged during construction.
There may be some fluctuation in the timeline due to long lead times for receiving product, weather delays, etc.
The Minocqua Public Library Foundation with its mission "to support and enhance the services and facilities of the Minocqua Public Library" is providing the majority of the funding for this project. The library is grateful for the support from the foundation and the wider community for their generous donations and patronage.