Storytime
StoryTime is happening Wednesdays at 10:00 am at various locations throughout the month of October:
October 5 will be at Minocqua Winter Park (7588 Squirrel Hill Road Minocqua, WI 54548). We will hike to the top of Squirrel Hill (about ¾ mile) for a view of the fall colors.
October 12 will be at the Minocqua Fire Department (9589 W. Clawson Drive Minocqua, WI 54548). We will receive a tour of the building and fire trucks as a part of this StoryTime.
October 19 will be in the library's program room and will be teddy bear-themed. Please bring a stuffed animal with you to StoryTime for a picnic.  Children are invited to leave their stuffed animals for a "sleepover" at the library as well.
October 26 will also be in the library's program room. We will celebrate Halloween with a party.  Wear your costume if you'd like!
StoryTime includes stories, finger plays, flannel boards, songs, and more for children ages 0-4 and their caregivers.  No StoryTime on November 23.
---

Strollerbrary
Strollerbrary, a NEW library program, will run for one month on the following Tuesdays: September 13, 20, 27 and October 4. Children ages 0-4 and their caregivers are invited to meet at the library's raised garden beds (next to the police station) at 10:00 am and walk with Miss Erica to Dorwin Park and back.  Miss Erica will lead literacy-based activities at the park and along the route as well.  Bring your stroller, wagon or two feet!
---
Play Days
Play Days, for children ages 0-4, will be offered every Thursday in October at 10:00 am in the library program room.  Children are invited to play with a variety of toys while parents socialize.
---
Story Paths at Minocqua Winter Park
Stop by Minocqua Winter Park (7588 Squirrel Hill Road) in Minocqua to check out two Story Paths sponsored by Minocqua Public Library!  "The Octopus Escapes" is located along the Tot Trot Trail and "Over and Under the Pond" is located along the Bunny Trail.  The trails are open from sun up to sun down and the stories will remain up all summer.
---

Tot Totes and Kid Packs
Have you checked out one of our tot totes yet? Each backpack contains fun ideas and games with the following themes: Shaky Eggs and Music, Jingle Sticks and Music, Bean Bags and Movement, Ribbons and Dance and Scarves and Dance. These are in the children's room and are available for check-out now.
*NEW* Kids Packs are now available for check-out as well!  These are an "older kid" version of the Tot Totes and include the themes of: Rainy Day, Music, Build and Play and Movie Day.  Stop by the kids' room and check them out!
---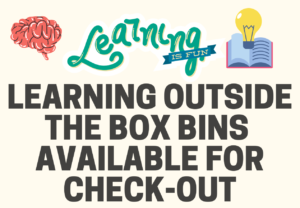 Learning Outside the Box Bins
Check out a Learning Outside the Box bin! These learning bins are meant for middle-school aged kids through teens. Each box has a theme and contains books, games, manipulatives, and worksheets centered around a topic. We currently offer the following themes: Human Anatomy, Mind Games, Pioneer Life, and Coding for Kids.

---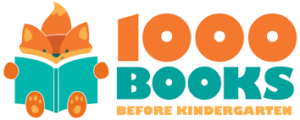 1000 Books before Kindergarten
This free program encourages you to read 1000 books with your child before he or she enters school.  Signing up for the program is easy! Just stop by the library to register.
You can track progress on your phone or tablet by downloading the free 1000 Books Before Kindergarten App. Or, you can track your progress on paper tracking sheets provided by the library.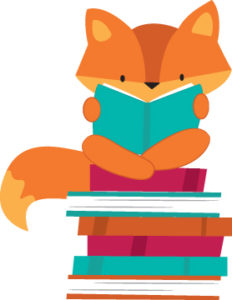 For every 100 books your child reads, he or she will receive one animal finger puppet. When you read 1000 books together, your child will have a full ten animal finger puppet set. He or she will also receive a brand new book.
Stop in to talk to us about this free program!
---
Need some help picking out a book?
Other reading suggestions can be found HERE.
Parent Resources