Register to attend Craft Cafe HERE.
---

Register for 100 Books Before Graduation HERE.
If you've already registered click HERE to record books.
What is it?
100 Books Before Graduation is a reading initiative for teens to read 100 books before they graduate from high school. It's modeled after 1,000 Books Before Kindergarten program, which gets younger children exposed to books before they begin school.
Why?
Countless studies have shown that children and teens who read for pleasure and enjoyment do better academically and socially and see improvement in their emotional health and well-being. Additionally, reading for pleasure:
Can result in higher test scores
Improves reading achievement (strong vocabulary, greater use of grammatical structures, and improved writing style)
Increases social skills
Reduces stress
Helps cure boredom
And, of course, at the library we strive to introduce, nourish, and grow a love of reading in the community that we serve.
Who can participate?
Students with a Minocqua Public Library card who are entering 9th grade may begin the program the summer after 8th grade. Those who are already in high school may also participate and challenge themselves to finish 100 books (although in a shorter time).
How does it work?
Those interested in participating simply need to register through the link above.
Record the books you've completed along the way. We will keep track for you, and you can always email the Teen Librarian (jdavis@minocqualibrary.org) to get an update as to what number you're at.
At the end, you'll earn a completion prize, and we will put your name up in the Teen Room for bragging rights!
*You may not enter books that you have already read. You may only record books that you have finished after your registration date.* 
What happens when you read 100 books?
Besides being exposed to amazing stories, characters, and authors, and having a sense of accomplishment, all those who complete 100 Books Before Graduation will receive a free book, an award and their name will be on display at the library.
Bonus!
If you want to earn volunteer/community service hours for reading…good news! You can earn 2 community service hours for every book evaluation that you fill out and return to the library! The book evaluation can be found here: Teen Book Evaluation
---
Teen Anime Club, Saturdays, 12pm – 2pm (Check front page of website for specific dates!)
Tweens | Teens
Join us for fun with friends, crafts, snacks, and more! We'll be streaming your favorite anime shows in the library's program room. Feel free to dress-up, bring in your favorite anime fan art, or other fun things to share (if you wish)!
---
WE WANT TO HEAR FROM YOU! Have a book in mind that you would like to see added to our collection?  Did you just start a new graphic novel series that you think others would enjoy as well?  What movies/TV shows are you watching these days? Want to see a program for teens at the library?  Ask for Jenny at the front desk or send at email to jdavis@minocqualibrary.org to give us suggestions on how we can make the library a great place for you!
---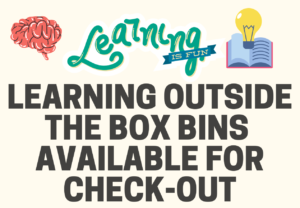 LEARNING OUTSIDE THE BOX BINS
*NEW* at the library! Check out a Learning Outside the Box bin! These learning bins are meant for middle-school aged kids through teens. Each box has a theme and contains books, games, manipulatives, and worksheets centered around a topic. We currently offer the following themes: Human Anatomy, Mind Games, Pioneer Life, and Coding for Kids.

---
TEEN

LINKS
---

LEARN TO CODE
For Teens: Made With Code, WisCode Literati, Code and Girls Who Code
For Younger Kids: Scratch Jr. and Kodable
---
PARENT RESOURCES