WE WANT TO HEAR FROM YOU!
Have a book in mind that you would like to see added to our collection?  Did you just start a new graphic novel series that you think others would enjoy as well?  What movies/TV shows are you watching these days? Want to see a program for teens at the library?  Ask for Jenny at the front desk or send at email to jdavis@minocqualibrary.org to give us suggestions on how we can make the library a great place for you!
---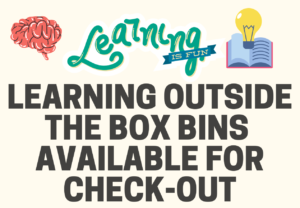 LEARNING OUTSIDE THE BOX BINS
*NEW* at the library! Check out a Learning Outside the Box bin! These learning bins are meant for middle-school aged kids through teens. Each box has a theme and contains books, games, manipulatives, and worksheets centered around a topic. We currently offer the following themes: Human Anatomy, Mind Games, Pioneer Life, and Coding for Kids.

---
TEEN

LINKS
---

LEARN TO CODE
For Teens: Made With Code, WisCode Literati, Code and Girls Who Code
For Younger Kids: Scratch Jr. and Kodable
---
PARENT RESOURCES