Club Connect | DiNovember, Thursday, November 10, 4-6pm
Kids | Tweens | Teens
Join us in the library's program room to excavate dinosaurs from eggs and enjoy fossil cookies! There will be a scavenger hunt too!
Club Connect | Community Cards, Thursday, November 17, 4-6pm
Kids | Tweens | Teens
Join us in the library's program room to design and create cards! Take one and leave on. Cards left will be delivered to community library outreach partners.
Teen Anime Club, Saturday, November 19, 12pm – 2pm
Tweens | Teens
Join us for fun with friends, crafts, snacks, and more! We'll be streaming your favorite anime shows in the library's program room. Feel free to dress-up, bring in your favorite anime fan art, or other fun things to share (if you wish)!
WE WANT TO HEAR FROM YOU! Have a book in mind that you would like to see added to our collection?  Did you just start a new graphic novel series that you think others would enjoy as well?  What movies/TV shows are you watching these days? Want to see a program for teens at the library?  Ask for Jenny at the front desk or send at email to jdavis@minocqualibrary.org to give us suggestions on how we can make the library a great place for you!
---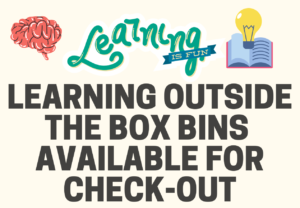 LEARNING OUTSIDE THE BOX BINS
*NEW* at the library! Check out a Learning Outside the Box bin! These learning bins are meant for middle-school aged kids through teens. Each box has a theme and contains books, games, manipulatives, and worksheets centered around a topic. We currently offer the following themes: Human Anatomy, Mind Games, Pioneer Life, and Coding for Kids.

---
TEEN

LINKS
---

LEARN TO CODE
For Teens: Made With Code, WisCode Literati, Code and Girls Who Code
For Younger Kids: Scratch Jr. and Kodable
---
PARENT RESOURCES