Scrapbook Crop, Saturday, May 14th, 11am – 2pm
Teens | Adults
Join us in the program room for some scrapbooking! Bring your photos and supplies and get some scrapbook pages completed. Each attendee will have their own table. Basic supplies will be available, please bring your own adhesives, papers, tools, etc. Pack a bag lunch if you wish!
---
Author Visit, Elizabeth Letts, Monday, May 23, 6pm
Teens | Adults
Join Minocqua Public Library's Open Book Club, in person or online, as they discuss Finding Dorothy. Author Elizabeth Letts will be joining in on the discussion remotely. Email chultman@minocqualibrary.org to join in!
---
Teen Anime Club, Saturday, May 28, 12 – 2pm
Tweens | Teens
We'll be streaming anime via Crunchyroll, enjoying snacks, and hanging out with friends. Please make sure to register so that we have enough snacks and crafts for everyone!
---
Common Scams & Frauds, Wisconsin Bureau of Consumer Protection, Thursday, June 9, 3:30pm
Adults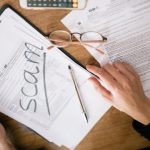 The Wisconsin Bureau of Consumer Protection will discuss the details of common scams, the warning signs of a scam, and what to do if you or someone you know falls victim to a scam or fraud.  Helpful factsheets from The Bureau of Consumer Protection will be available.
---
Tai Chi in the Park, Fridays, 8am
All Ages
June 10th –  July 29th
70W Sports Complex Park
Looking for a way to reduce stress and improve your overall health? Drop in and join fellow community members in learning this gentle, graceful form of exercise and experience its many health benefits. Led by local instructor and longtime certified personal trainer Tori Cihla. No registration necessary.
---
Dollar a Day Boys, Musician Bill Jamerson, Tuesday, June 21, 1:30pm
Teens | Adults
Imagine it's the 1930s, you're young and trying to survive during the Great Depression. Life is tough, food is scarce, and jobs are non-existent. One day you hear about a new job works program that pays a "dollar-a-day", the Civilian Conservation Corps (CCC).  You soon find yourself in the Wisconsin Northwoods spending long days planting trees and building roads.
Join us for this musical tribute to the CCC. Sponsored by the Lakeland Area Genealogy Society (LAGS) and Minocqua Public Library. This event will take place at the 70 West Sports Complex, please bring your own lawn chair. 
---
Summer Movie Matinees, last Monday of the month, 2pm
Tweens | Teens | Adults
6/27: Death on the Nile (2022) PG-13 
7/25: Belfast (2021) PG-13
8/29: Dog (2022) PG-13